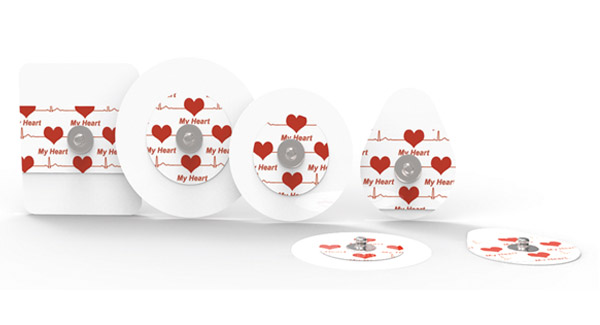 Snap Electrodes
Features:
1. High quality medical adhesive provides strong adhesion, it won't easily fall off even on Diaphoretic patient;
2. Imported Ag/Agcl sensor and patent formulated hydrogel ensure quick ,clear and accurate traces;
3. Electrical performances comply to AAMI EC12 Standard;
4. Materials ISO10993 compatible;
5. Private labeling and packing are available;
6. All electrode produced in 100,000 level clean room;
7.Neoprene-free, DEHP-free and Mercury-free.
Disposable ECG Electrode are available in a variety of materials, shapes and sizes to satisfy your preference.
| | | | | | | | |
| --- | --- | --- | --- | --- | --- | --- | --- |
| Product code | Size | Gel | Backing | Packing | Suggested usage | Applicable people | Details |
| 0801160 | 55*55mm | Solid | Foam | 5pcs/strip 50pcs/pouch 5000pcs/case | Diagnostic Monitoring Holter/tread mill | Adult | Details> |
| 0801073 | 45*45mm | Solid | Foam | 5pcs/strip 50pcs/pouch 5000pcs/case | Diagnostic Monitoring Holter/tread mill | Adult | Details> |
| 0801161 | 37*45mm | Solid | Foam | 5pcs/strip 50pcs/pouch 5000pcs/case | Diagnostic Monitoring Holter/tread mill | Adult | Details> |
| 0801043 | 30*40mm | Solid | Foam | 5pcs/strip 50pcs/pouch 5000pcs/case | Diagnostic Monitoring Holter/tread mill | Adult | Details> |
| 0801095 | 42*46mm | Solid | Foam | 5pcs/strip 50pcs/pouch 5000pcs/case | Diagnostic Monitoring Holter/tread mill | Adult | Details> |
| 0801170 | 36*42mm | Solid | Foam | 5pcs/strip 50pcs/pouch 5000pcs/case | Diagnostic Monitoring Holter/tread mill | Adult | Details> |
| 0801171 | 30*33mm | Solid | Foam | 5pcs/strip 50pcs/pouch 5000pcs/case | Diagnostic Monitoring Holter/tread mill | Pediatric | Details> |