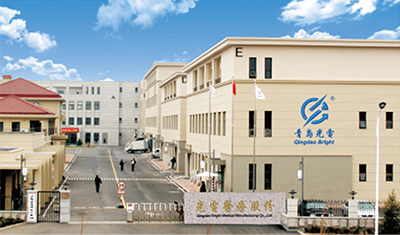 Company Introduction
Established in 1993, Qingdao Bright Medical Manufacturing Co Ltd has been focusing on R&D and industrialization of medical instruments. With over 100 domestic and international patents, Qingdao Bright was awarded as High-tech Company by Qingdao city and Patent Star Company by Shandong Province. Qingdao Bright has conducted technical cooperation with over 500 medical companies and research institutes globally. In 2001 and 2018, Qingdao Bright twice conducted the R&D task of integrated medical sensor in a major national project. Qingdao Bright is also the drafter of the industrial standard for medical instruments.

The registered capital of Qingdao Bright is 22.6 million RMB. Qingdao Bright Medical Industrial Park takes an area of 20,000 ㎡ and the area of structure is also 20,000㎡, including a 1,200㎡ 10,000 Class clean room for disposable medical consumable production. The industrial park is equipped with Bioelectricity Lab, R&D Center, Engineering Center, Incubation Center and Manufacturing Center. Qingdao Bright has 5 fully-owned subsidiaries and 1 Sino-Korean joint venture.

In 2013, Qingdao Bright established the first medical instrument industrial park in Qingdao, which also acts as a medical instrument incubator and international technology cooperation base. Qingdao Bright Medical Industrial Park has been identified as SME Industrial Park, Model Enterprise of Specialized, Refined, Characterized and Innovative Enterprises by the Economic and Information Committee of Qingdao, and Expert Workstation by the Human Resource and Social Welfare Bureau of Qingdao.

Qingdao Bright's main products and technology expertise lies in the area of: medical grade integrated sensor/electrode (re-useable, disposable and wearable), human-machine connection solutions, external defibrillators and related emergency rescue technology, medical optics and interventional imaging. Qingdao Bright has been providing innovative products as well as R&D services for numerous renowned universities, companies and research institutes in the areas including mobile, wearable and intelligent medical devices. With the strong technology accumulation and international technology resources, Qingdao Bright has become the indispensable center for R&D, production and system solution in global high-end medical industry.

Qingdao Bright has been well recognized by global medical industry as a trustworthy high-tech medical company with its advanced and reliable experience in R&D, constantly perfected quality management system, honest and pragmatic business philosophy and perfect customer service.